Indie Game Night: Hyper Jam
February 28, 2019 @ 7:00 pm

-

11:00 pm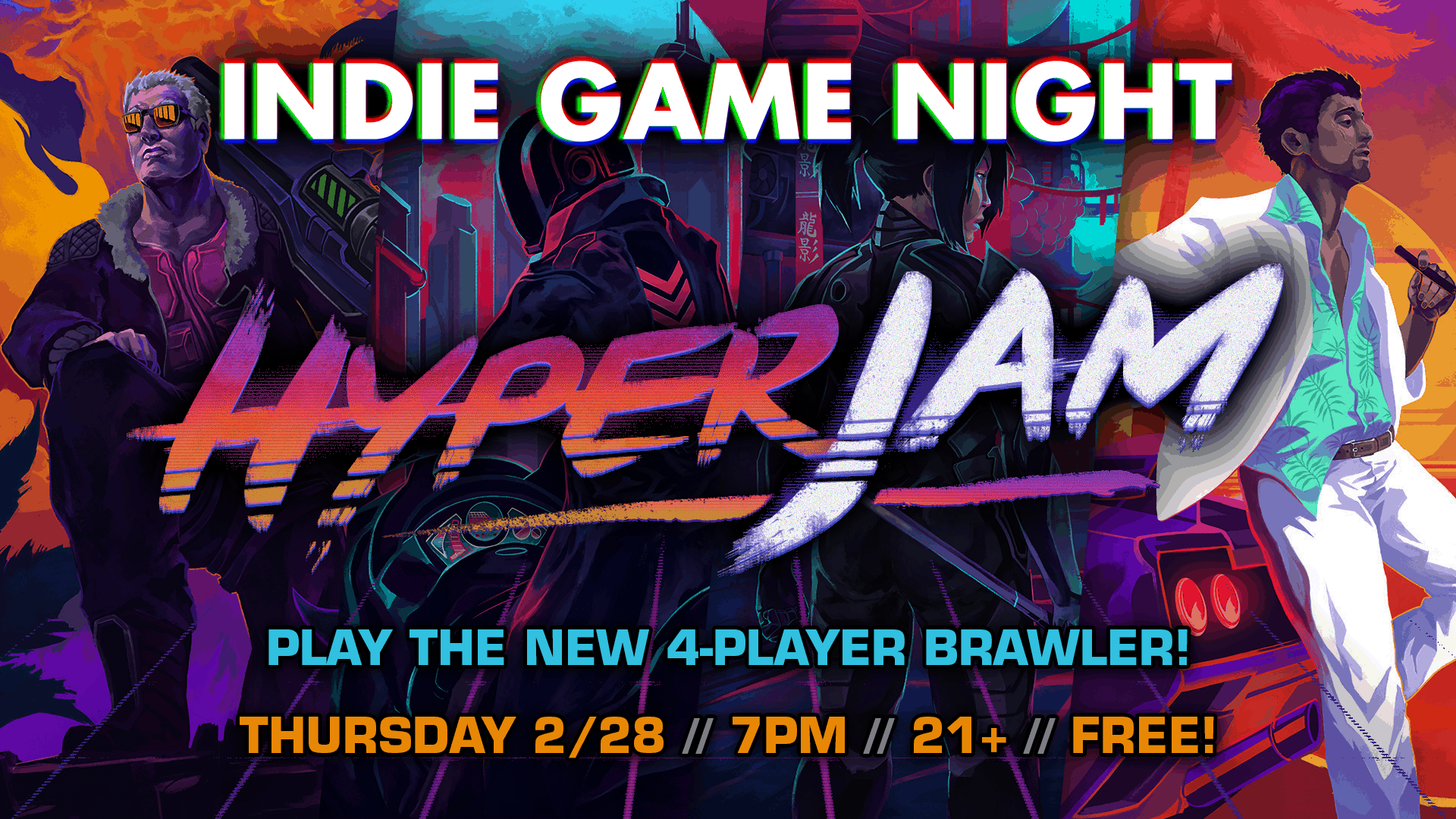 Every Last Thursday, Indie Game Night invites you to play and preview new and unreleased independently-developed video games in Ground Kontrol's lounge. These games are made by small teams (often just a few people) and are usually retro-inspired with refined game play that's easy to pick up in just a couple of rounds.
This month, we're featuring Australian developer Bit Dragon's new 4-player brawler, Hyper Jam!
HYPER JAM [Bit Dragon]
Hyper Jam is a neon-soaked arena brawler with a dynamic perk drafting system that makes each match different from the last.
Key Features:
Furious Combat – Hyper Jam features fast-paced multiplayer arena gameplay for up to 4 players. Annihilate your opponents round after round using katanas, rocket launchers, sledgehammers, and more.
Perk Drafting – After every round, players choose new perks that stay with them for the rest of the game, stacking and combining with their existing ones to create more powerful effects. A wide pool of distinctive perks ensures no two games are ever the same.
Local and Online Multiplayer – Grab some controllers and take on your friends at home, or test your skills against the rest of the world in public or private online matches. Cross-platform matchmaking means there are even more challengers to face!
'80s Aesthetic – Play as a strong selection of '80s-inspired characters on a variety of beautiful and dangerous arenas, ranging from a sundrenched Miami hotel rooftop to a gritty Neo-Tokyo subway.
Killer Synthwave Soundtrack – An addictive soundtrack featuring Carpenter Brut, Dance With The Dead, Meteor, Vulta and more will keep hearts racing as you blow each other to bits.
AI Bots – Hone your skills against AI bots before taking the fight online. Customise bot difficulty, game rules and more to create your own challenge.
Get down here at 7 and join gamemaster Aspen Farer, who will be on hand to help you get started. There's no cost to play and no pressure to win, just grab a beer and a controller and have a blast!
Indie Game Night · Every Last Thursday · 7pm-late · 21+ · FREE