Indie Game Night: Ultimate Chicken Horse + Gang Beasts
April 25, 2019 @ 7:00 pm

-

11:00 pm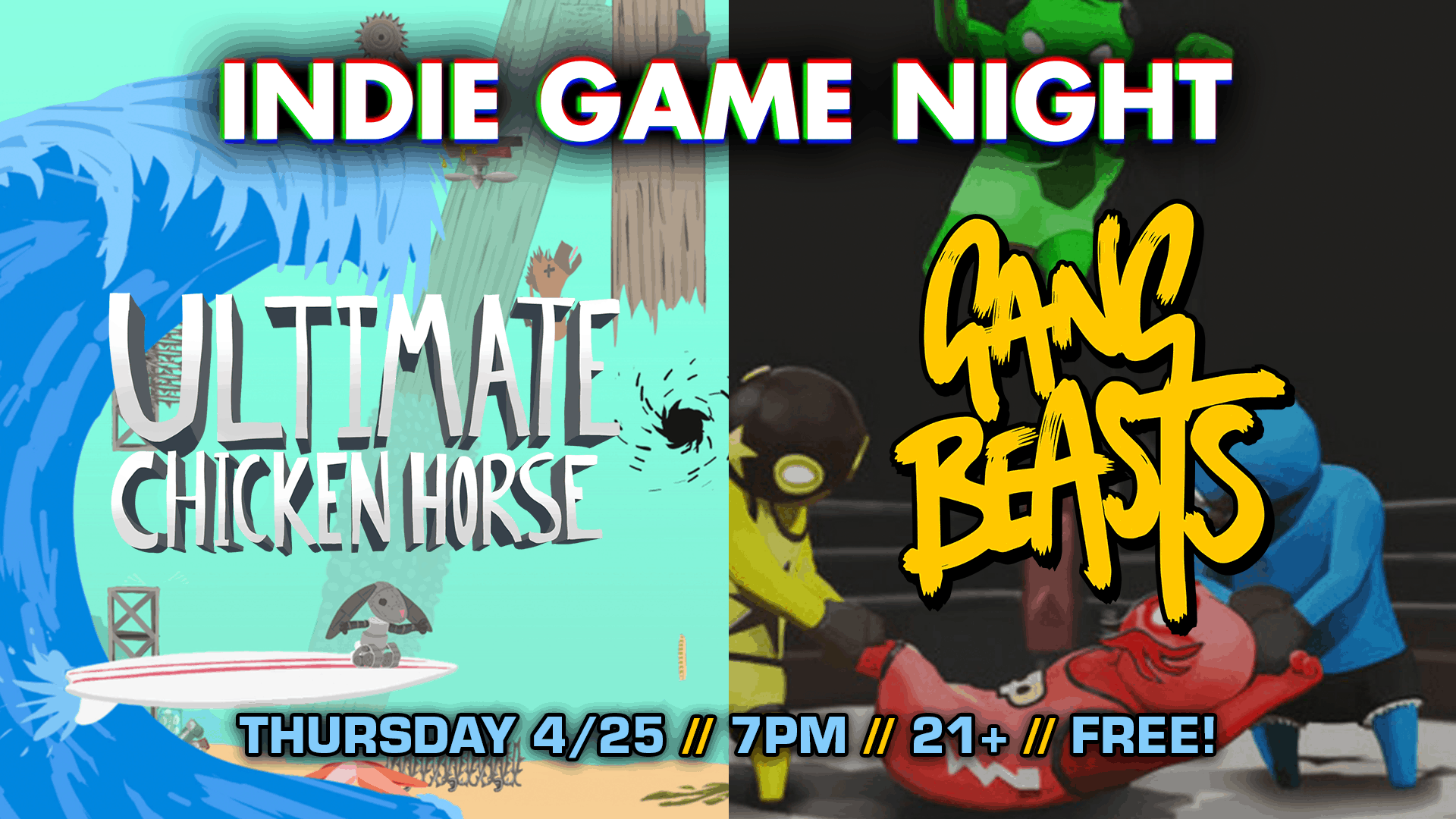 Every Last Thursday, Indie Game Night invites you to play and preview new and unreleased independently-developed video games in Ground Kontrol's lounge. These games are made by small teams (often just a few people) and are usually retro-inspired with refined game play that's easy to pick up in just a couple of rounds.
This month, we're returning to two of the most popular multiplayer games that we've featured for Indie Game Night over the past few years, Ultimate Chicken Horse and Gang Beasts!
ULTIMATE CHICKEN HORSE [Clever Endeavour Games]
Ultimate Chicken Horse is a party platformer where you build the level as you play, taking turns placing traps and hazards and trying to screw your friends out of a win. Each turn, place more items in the level before running through, and try to create a level that's just barely too hard for your friends, but easy enough for you. If everyone reaches the end of the level, no one gets any points, so be dangerous!
Gang Beasts [Boneloaf + Double Fine Productions]
Gang Beasts is a silly multiplayer party game with surly gelatinous characters, brutal mêlée fight sequences, and absurdly hazardous environments.
– Set in the fictional meatropolis of Beef City.
– Gasp with shock and delight at the spectacle of stupid pugnacious thugs punching, kicking, and throwing their foes into unspecified hazardous machinery, flaming incinerator pits, and ginormous industrial fans.
– Watch in horror and amusement as gangs of saggy beasts grab, push, pull, and shove their enemies from permanently suspended building scaffolds, unattended ferris wheels, and commercial haulage trucks.
Get down here at 7 and join gamemaster Aspen Farer, who will be on hand to help you get started. There's no cost to play and no pressure to win, just grab a beer and a controller and have a blast!
Indie Game Night · Every Last Thursday · 7pm-late · 21+ · FREE