Indie Game Night: Multiplayer Arena Battles with 2 Towns Ciderhouse
June 27, 2019 @ 7:00 pm

-

11:00 pm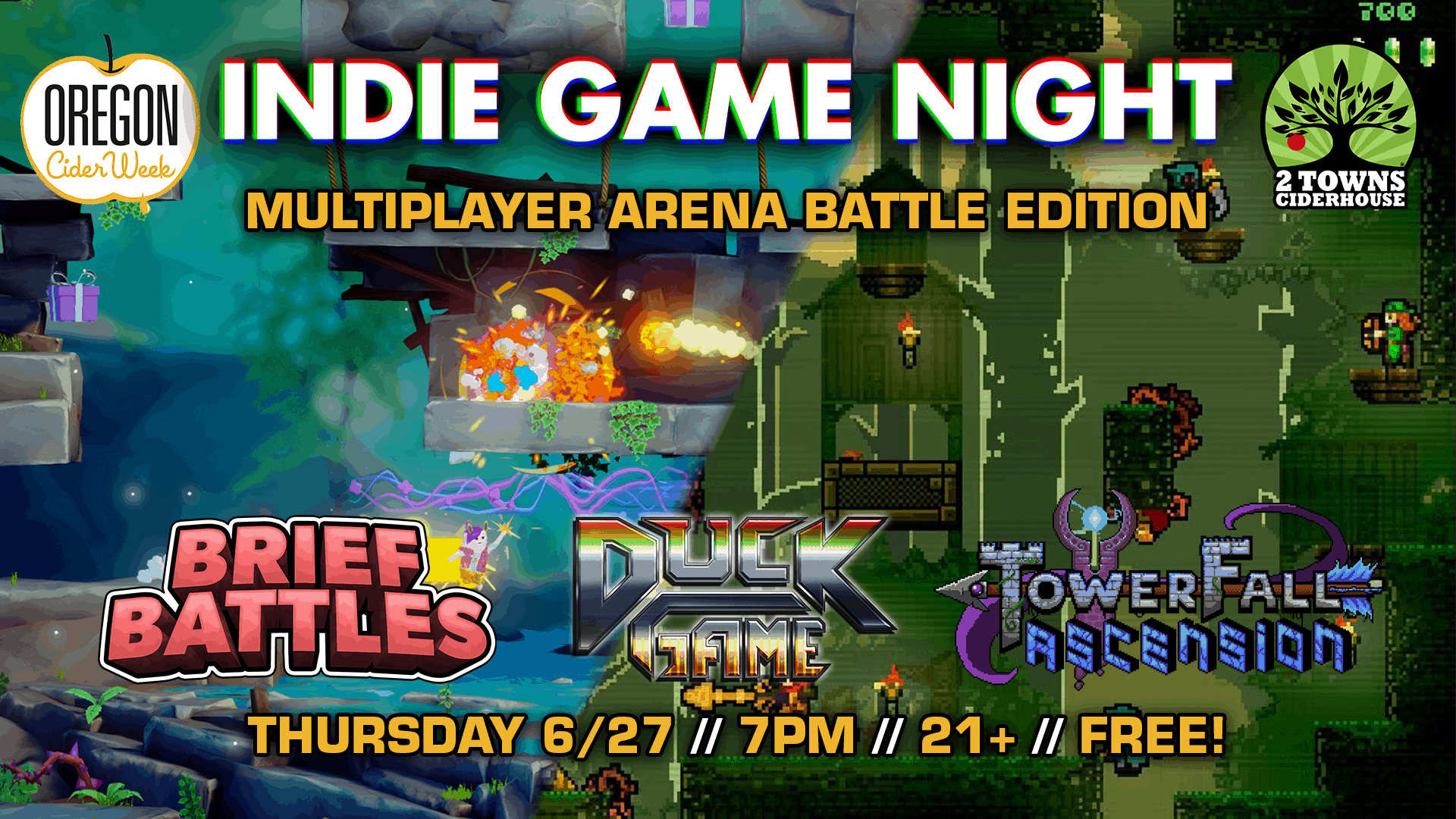 Every Last Thursday, Indie Game Night invites you to play and preview new and unreleased independently-developed video games in Ground Kontrol's lounge. These games are made by small teams (often just a few people) and are usually retro-inspired with refined game play that's easy to pick up in just a couple of rounds.
This month, we're celebrating Oregon Cider Week with 2 Towns Ciderhouse and featuring a variety of cider specials at the bar and some of our favorite 4-player arena battle indie games up on the projector screen!
TOWERFALL: ASCENSION [Matt Makes Games]
Enter the land of TowerFall with your friends and engage in the noble and brutal tradition of bow-and-arrow combat. TowerFall is an archery combat platformer for 1-4 players, with an arcade co-op mode and hilarious, intense versus matches. The core mechanics are simple and accessible, but combat is fast and fierce. The focus is on player mastery and friendly rivalry.
DUCK GAME [Developed by Landon Podbielski, published by Adult Swim Games]
Enter the futuristic year of 1984, an age where ducks run wild in a frantic battle for glory. Win over the crowd and gain a following by blasting your feathered friends with Shotguns, Net Guns, Mind Control Rays, Saxophones, Magnet Guns, and pretty much anything else a duck could use as a weapon. One hit and you're roasted. This is DUCK GAME. Don't blink.
BRIEF BATTLES [Juicy Cupcake]
Brief Battles brings butt-em-up action to your screen in a party game with a cheeky twist: It's all about the undies! Start hilarious battles with nothing but your buns to slam and squish those in your sights. Scramble to grab super-powered undies to embrace the power of the butt and gain an underwear-fueled edge over your friends, as you strive to prove who has the mightiest buns.
Get down here at 7 and join gamemaster Aspen Farer, who will be on hand to help you get started. There's no cost to play and no pressure to win, just grab a cider and a controller and have a blast!
Indie Game Night · Every Last Thursday · 7pm-late · 21+ · FREE