Indie Game Night – Nidhogg 2
August 16, 2017 @ 7:00 pm

-

11:00 pm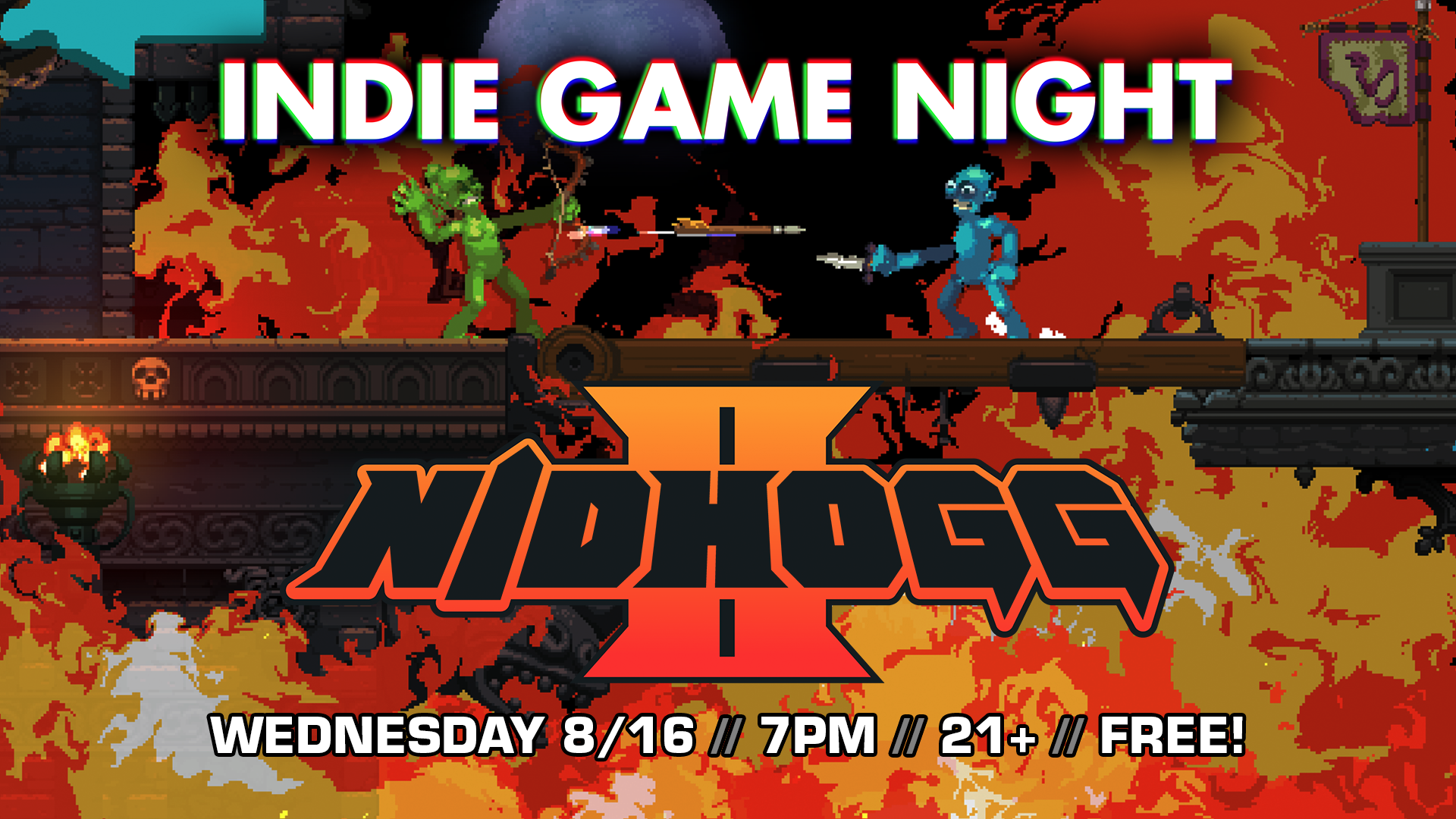 Indie Game Night invites you to play some of our favorite independently-developed video games in Ground Kontrol's lounge. These games are made by small teams (often just a few people) and are usually retro-inspired with refined gameplay that's easy to pick up in just a couple of rounds.
This month, we're featuring the highly anticipated Nidhogg 2 just one day after its release on PS4! Indie Game Night typically takes place on the last Thursday of the month, but we're too excited to play Nidhogg 2 to wait, so join us on Wednesday 8/16 at 7pm to play the game the day after its release! Plus, we'll be starting a free Nidhogg 2 tournament at 9pm!
NIDHOGG 2 [Messhof]
Outsmart your opponents with all kinds of weapons in this life or death tug-of-war that ends in the belly of a flying worm.
The next installment of the epic award-winning dueling tug-of-war is coming! Stab, shoot, slice, or stomp your opponent to gain control of the screen, then book it to your side of the arena. Before long, a new opponent will appear in your way. If they kill you, they get control. Get all the way to your end of the arena to win–and be devoured by the Nidhogg. Enjoy new monstrous visuals by artist Toby Dixon and bangin beats from Mux Mool, Daedelus, Doseone, and more!
Get down here at 7 and join gamemasters Art Santana and Dylan Reiff, who will be on hand to help you get started. We will be playing casual matches 7-9pm and beginning the tournament at 9pm sharp, so make sure to show up before 9pm if you would like to sign up for the tournament. There's no cost to play and beginners are welcome, just grab a beer and a controller and have a blast!
Indie Game Night · Wednesday 8/16 · 7pm-late · 21+ · FREE
Related Events