Killer Queen PDX | October Mixer Tournament
October 3, 2022 @ 7:00 pm

-

10:00 pm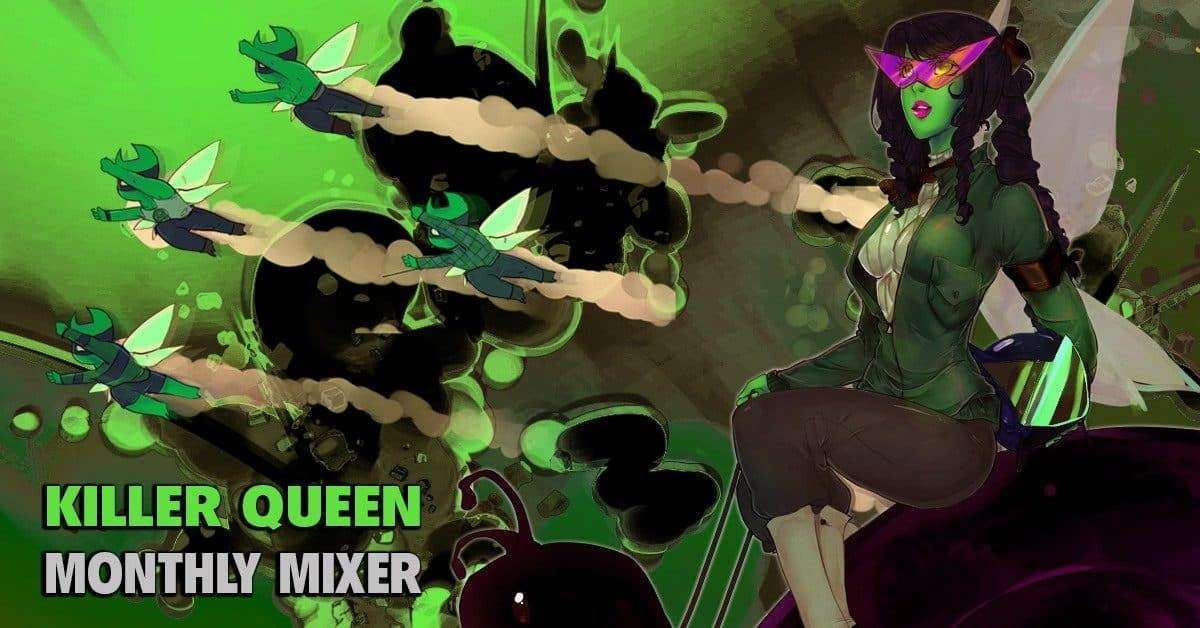 Join us for a fun (and FREE) Mixer Tournament on Monday, October 3rd @ 7pm. This is a great tournament for people of all skill levels that want to play with new people in a more relaxed competitive environment.
CODE OF CONDUCT:
Please review our community Code of Conduct before attending, as ALL attendees will be responsible for upholding this during the tournament: https://bit.ly/KQPDXcoc
We will have extra KN95 masks & COVID rapid tests on hand if needed.
⏰ Schedule:
6 PM – 6:30 PM: Sign ups!
6:30 PM – 7 PM: Draft picks & warmup games
7 PM – 10 PM (ish): Mixer Tournament games
🕹 Format:
Exact format depends on the number of teams that sign up, and will be announced the night-of.
You don't need to find or bring a team with you! All skill levels encouraged to sign up – including if you've never played before. You'll sign up individually for the tournament (BEFORE 6:30pm!) at the venue, and we'll find a few people that want to captain. After sign ups close, we'll be doing a snake draft where captains choose members for their team. Please stay in the area between 6:30 – 7pm so we can find you after the draft is complete and get started on time!
If you show up late for signups there's ~no guarantee~ you'll get to play in the tournament. Please keep that in mind! If you're running late but you know you'll be there BEFORE 7pm, please message someone attending and ask if there are any options.
🏆 Prizes:
1st🥇: $50 gift certificate for the team to split & $10 game cards for each player.
2nd🥈: $50 gift certificate for the team to split.
3rd🥉: $25 gift certificate for the team to split.
🎥 Stream & Bracket:
You'll be able to see the Twitch stream, Twitch chat, and the Challonge bracket on the Live Matches page of our website here:
https://killerqueenpdx.buzz/live
If you'd prefer direct links, we'll be streaming the tournament on our Twitch page here:
https://www.twitch.tv/kqpdx
The Challonge bracket will be posted here:
https://challonge.com/kqpdx100322
↩️ Finding the KQ cabinets:
🔵 Blue Side 🔵
Once you enter Ground Kontrol you'll need to walk straight back and around the first bar, take a left and go all the way to the back room. Killer Queen is in the back-right corner of the blue room, near the second bar.
– – – – – – – – – – – – – – – – – – – – – – – –
⚠️ Please verify your vaccination status using our form here prior to the event:
https://bit.ly/KQPDXvaxform
Verifying your vaccination status beforehand helps us get everyone signed up and ready so we can start on time.
If you're unable or unwilling to verify with the form above, please bring a photo of your vaccination card or the card itself with you. If you cannot provide proof of full COVID vaccination (all shots plus 2 weeks) and a recent booster shot, you may be denied entry to the tournament.
– – – – – – – – – – – – – – – – – – – – – – – –
Can't wait to play bee game with you all soon! 🎉
Related Events