Level Beer Tap Takeover // I've Got Next Release Party
March 19, 2019 @ 7:00 pm

-

11:00 pm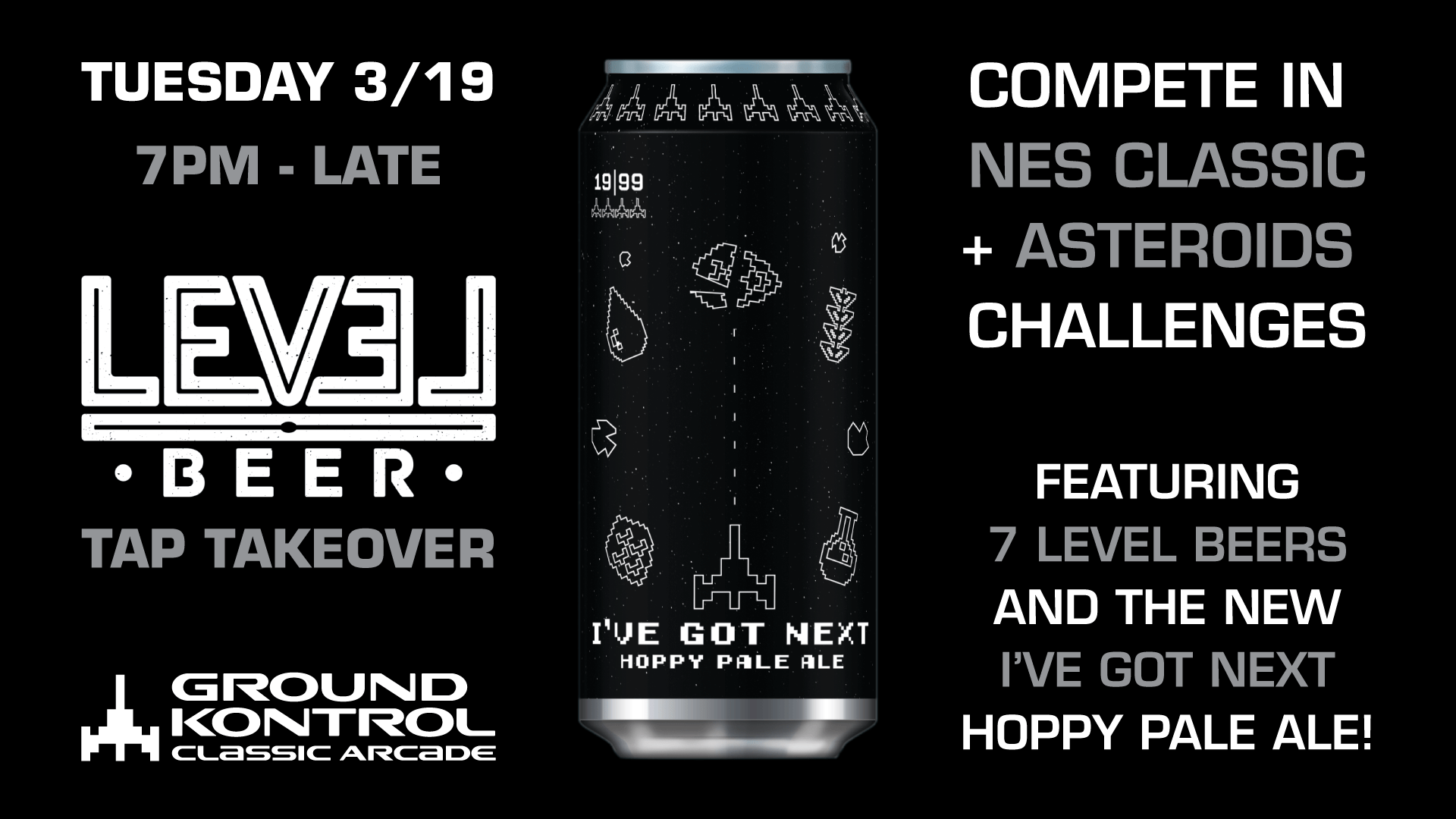 Put your quarters up and grab the next round! On Tuesday March 19, Level Beer invades Ground Kontrol for the ultimate tap takeover, featuring 7 of their best brews, including the brand-new, Ground Kontrol-inspired I've Got Next Hoppy Pale Ale.
I've Got Next is a light-bodied, hoppy pale ale with bright citrus hop flavors and aromas in a 16oz tallboy can wrapped with arcade art, perfect to pair with any of our 150 games. You'll be among the first to try it before its wide release, and it's sure to be a favorite for both friendly competition and co-op missions. Want to mix it up? Hit the bar where we'll have 4 more select Level beers on tap and 2 more in cans!
Score bonus points by entering our special challenge events to win prizes from both Level Beer and Ground Kontrol! Spin a wheel and try your hand at a random feat of Nintendo power in our NES Classic Edition Challenge, where you may have to best baddies in your briefs in Ghosts 'n Goblins, dominate delinquent dudes in Double Dragon, or crush cursed corpses in Castlevania II: Simon's Quest on Nintendo's mini-console. Prefer a more old-school challenge? Enter the Asteroids High Score Challenge by playing the 1979 stand-up arcade classic, and submit your best score of the night for your chance at the top prize.
Whether you're a beer buff or arcade aficionado, you'll find plenty of power-ups at the Level Beer Tap Takeover // I've Got Next Release Party. Bring a co-pilot and blast into hop-per space with Level Beer and Ground Kontrol!