Monday Night Fights: Soul Calibur VI + Soul Calibur II
November 26, 2018 @ 6:00 pm

-

11:00 pm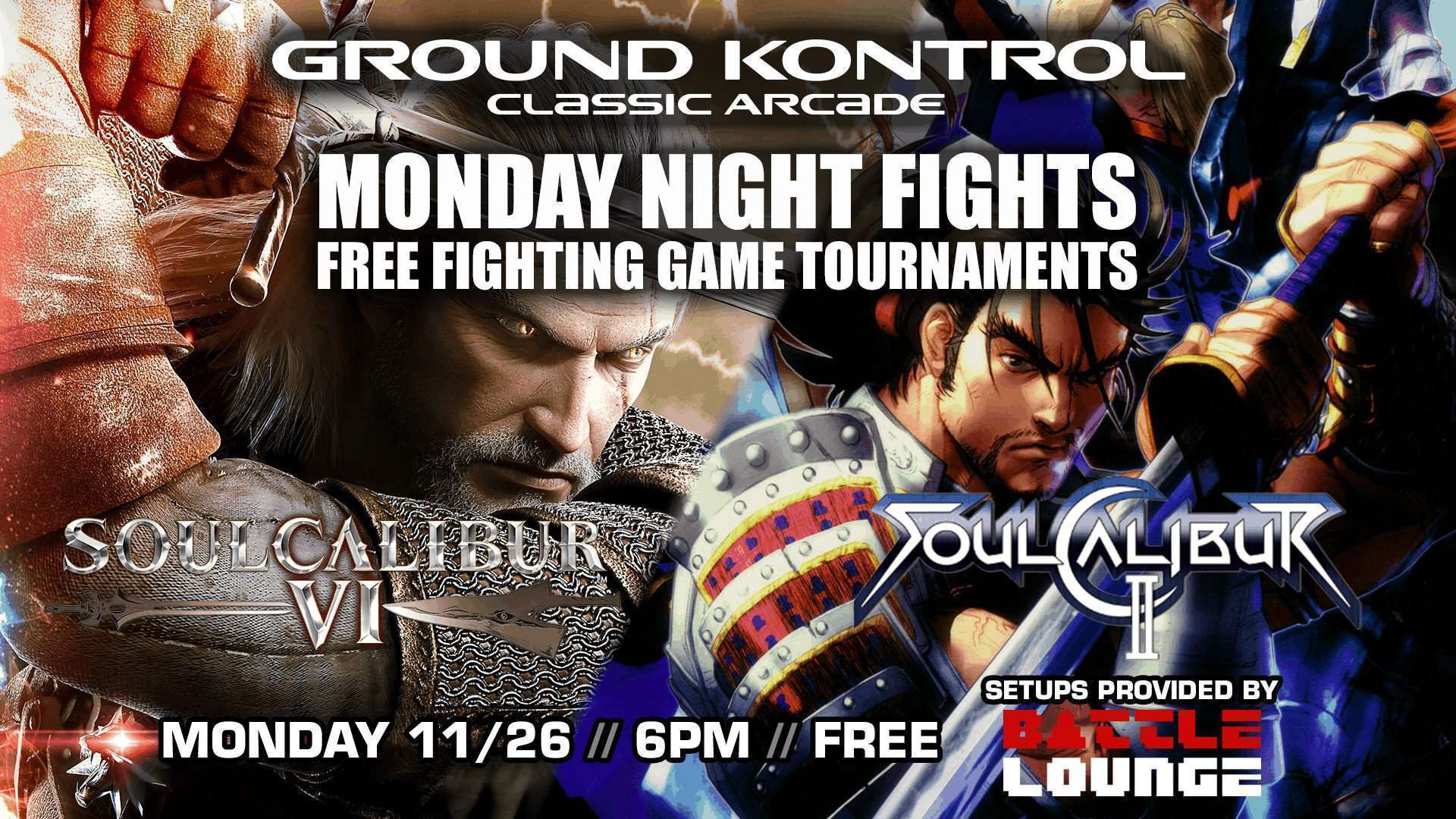 Throw down on the two entries from the biggest fighting game franchises ever at Monday Night Fights! This month, we're hosting FREE tournaments on the PS4 version of Soul Calibur VI and our Soul Calibur II arcade cabinet. Winners walk away with Ground Kontrol credit and bragging rights!
Sign-ups for both tournaments begin at 6pm. We'll host Soul Calibur II first, then follow it with Soul Calibur VI. Get here by 7pm if you want to compete in Soul Calibur II, 8pm if you want to compete in Soul Calibur VI! *Start time for SCVI may be earlier if SCII runs quickly*
SOUL CALIBUR II FORMAT – Double Elimination, 3/5 Rounds per Match, 2/3 Matches per Set. 3/5 Matches for Losers Finals, Winners Finals, and Grand Finals.
Versus mode, 60 second rounds.
100% health (default).
Random stage select.
SOUL CALIBUR VI FORMAT – Double Elimination, 3/5 Rounds per Match, 2/3 Matches per Set. 3/5 Matches for Losers and Winners Finals, 3/5 Matches for Grand Finals.
Default settings, versus mode, 60 second rounds.
No handicap.
Loser may switch characters, winner is character locked.
Inferno is not tournament legal.
No custom Characters.
PS4 controllers are provided, but you may bring your own fighting stick
Wednesday Night Fights: Soul Calibur VI + Soul Calibur II Tournaments · Monday 11/26 · 6pm-late · FREE · 21+ only
Related Events