Streets of Reg – Free Play Tribute Party
March 12, 2018 @ 5:00 pm

-

2:00 am

$5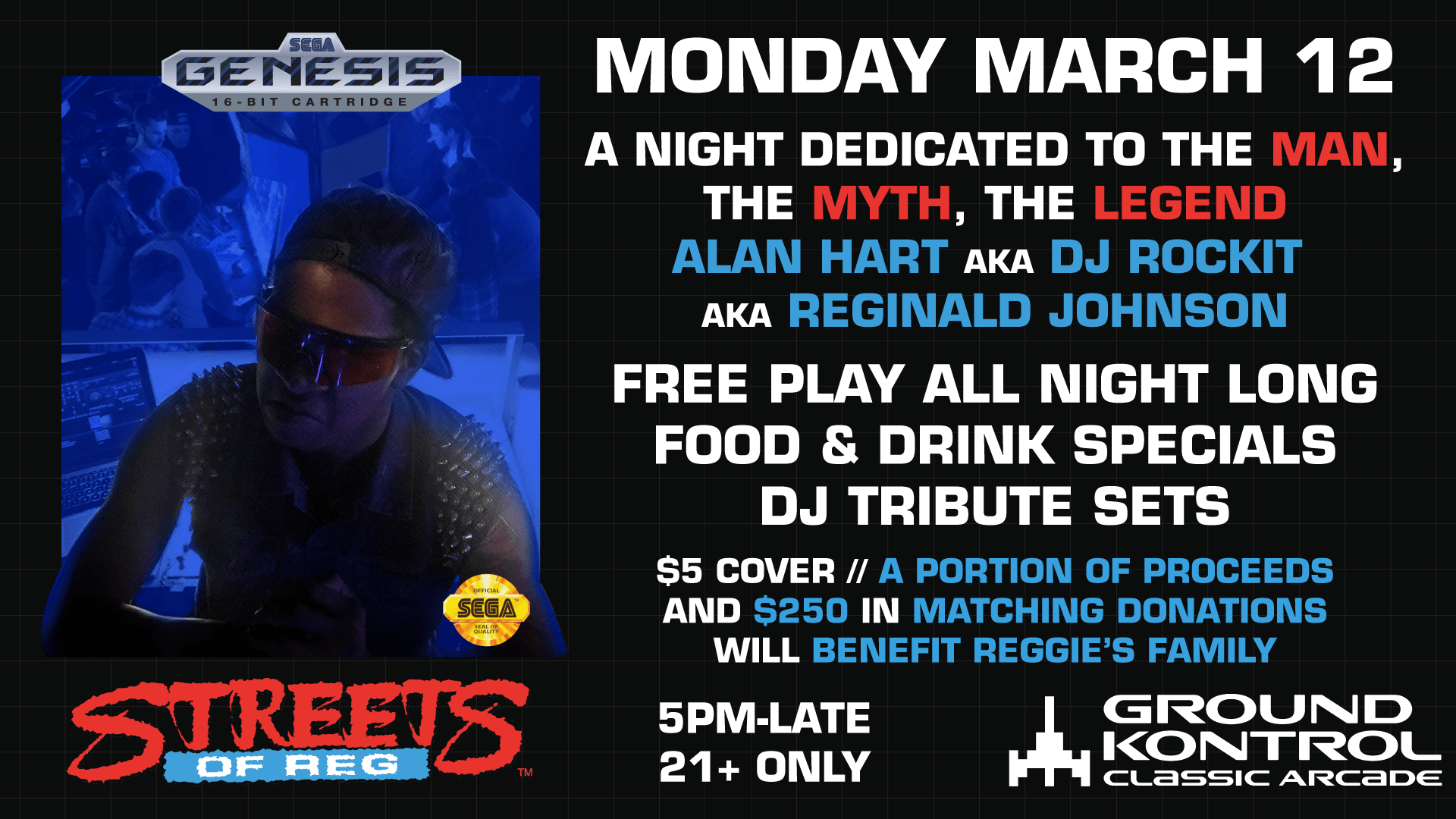 Ground Kontrol lost someone incredibly important to us recently: our friend, DJ, and staff member, Reginald Johnson (aka Simon Galaga aka DJ Rockit aka Alan Hart).
Reggie came to us as a DJ in 2013, promising to deliver a video game-inspired dance party like no other! He came through in a big way, immediately becoming one of our favorite DJs and jumping on any opportunity he had to play. Reggie's love of music, movies, superheroes, and classic gaming elevated Ground Kontrol's atmosphere whenever he was here, taking us through his world of 80s funk, 90s wrestling and the smoothest video game sounds from NES to Neo-Geo. He played regularly at Ground Kontrol for nearly 5 years, becoming part of our family and a necessary part of our biggest events as well as nights where we just needed that extra boost!
Help us celebrate the impact Reggie had on all of us here at Ground Kontrol with a special night dedicated to him featuring free play on all of our games, food and drink specials inspired by his favorites, and tribute DJ sets by friends Nate C., "Showtime" Dylan Reiff, Mechlo and Aurora!
Join us the night of Monday March 12th for a party worthy of the high flyin', limousine ridin', kiss stealin', wheelin', dealin', jet ridin' sonnovagun himself! Throw on your finest threads and let out your Ric Flair "WOO!", 'cause it's time to send bad times packin' on the Streets of Reg!
NOTE: Ground Kontrol will be donating $500 from door proceeds as well as matching up to $250 in cash donations at the bar to benefit Reggie's family. Please bring cash if you'd like to donate extra!
Streets of Reg – Free Play Tribute Party · Monday 3/12 · 5pm-close · $5 · 21+ only
Related Events