Sunday Night Fights: Soul Calibur VI + Tekken 7 Tournaments
December 23, 2018 @ 6:00 pm

-

11:30 pm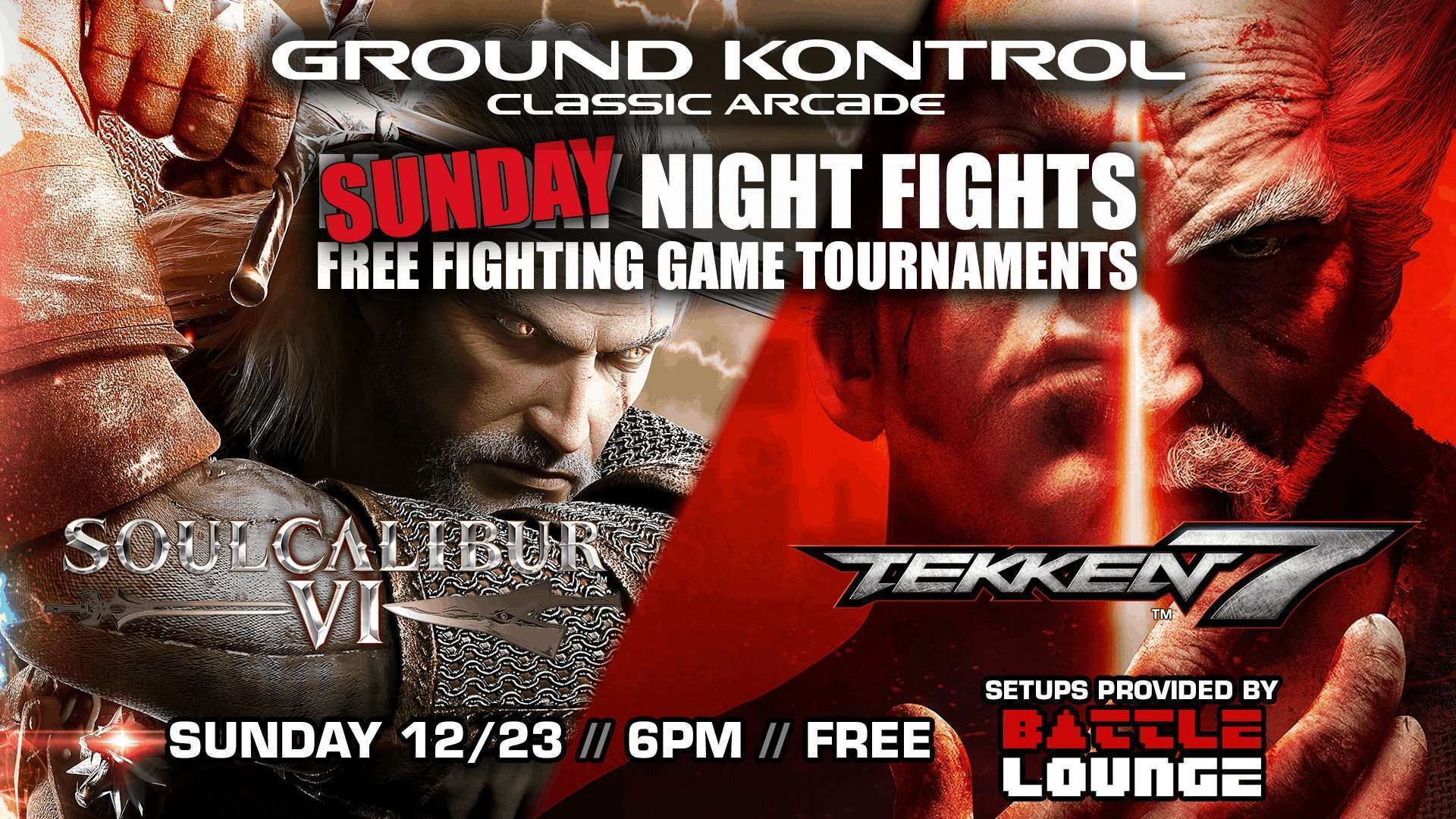 Throw down on the latest entries in two of the biggest fighting game franchises ever at Sunday Night Fights!
We're hosting FREE tournaments on Soul Calibur 6 and Tekken 7. Winners walk away with Ground Kontrol credit and bragging rights!
Sign-ups for both tournaments begin at 6pm. We'll host Soul Calibur 6 first, then follow it with Tekken 7. Get here by 7pm if you want to compete in Soul Calibur 6, 8pm if you want to compete in Tekken 7! *Start time for Tekken 7 may be earlier if SCVI runs quickly*
SOUL CALIBUR VI FORMAT
– Double Elimination, 3/5 Rounds per Match, 2/3 Matches per Set. 3/5 Matches for Losers and Winners Finals, 3/5 Matches for Grand Finals.
– Default settings, versus mode, 60 second rounds.
– No handicap.
– Loser may switch characters, winner is character locked.
– Inferno is not tournament legal.
– No custom Characters.
TEKKEN 7 FORMAT
– Double elimination, best 2 of 3. Finals best 3 of 5.
– Game Settings: Versus Mode, 99 Seconds, 2/3 Rounds, 2/3 Games, No Handicap
– Loser may switch characters, winner is locked into the character they won with.
HARDWARE – PS4 – controllers provided, bring your own fighting stick if you'd like.
Sunday Night Fights: Tekken 7 + Street Fighter V Tournaments · Sunday 12/23 · 6pm-late · FREE · 21+ only
Related Events