Superb Owl Sunday: Sports-Free Happy Hour All Night!
February 13, 2022 @ 5:00 pm

-

11:30 pm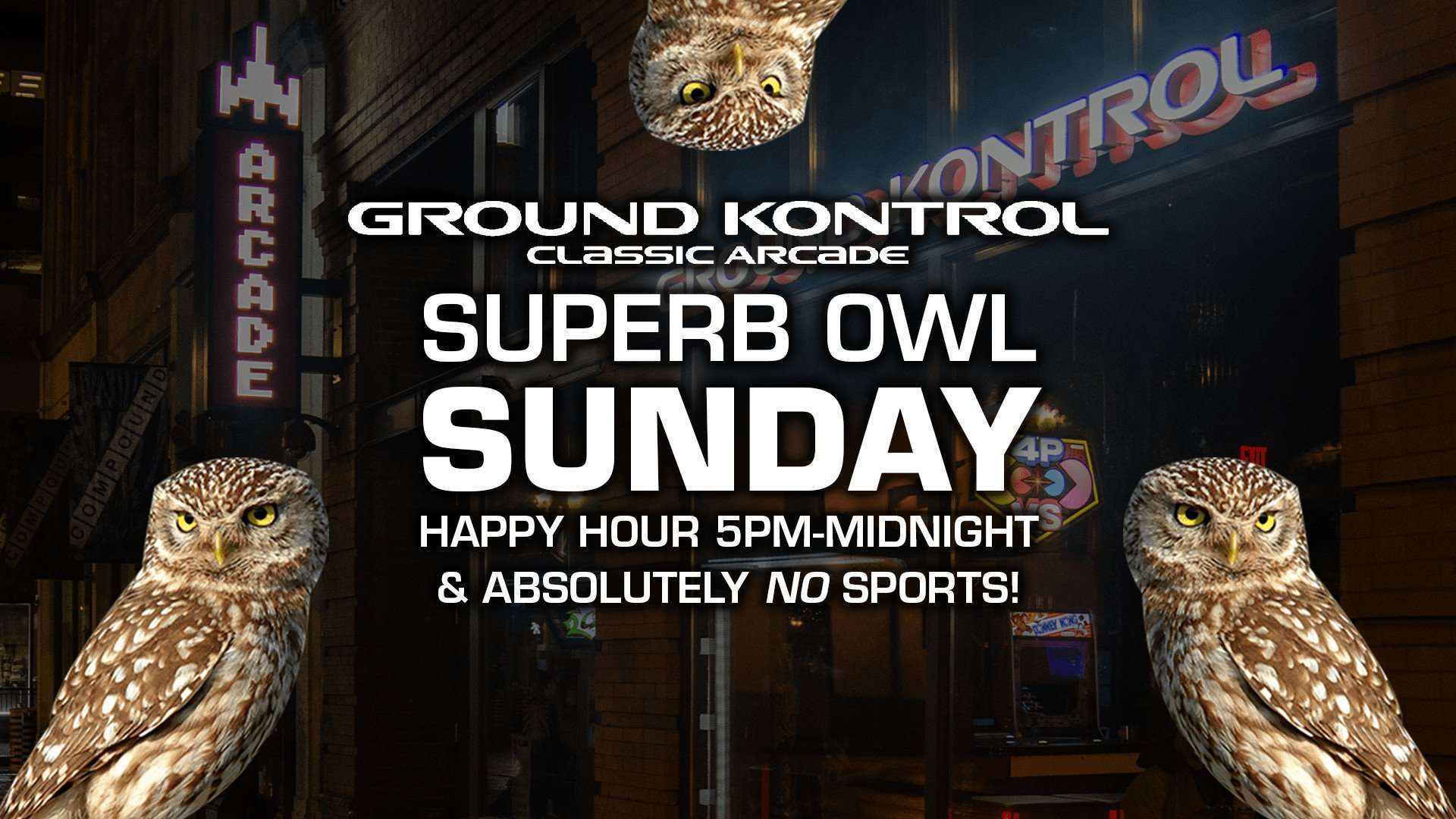 Need something to do on Sunday night that doesn't involve sportsball? Stop by for some classic arcade gaming and extended happy hour in honor of the highly effective bird of prey from the order Strigiformes!
Known for their nocturnal schedule, ability to rotate their heads more than most creatures, and a tendency to swallow their prey whole, owls are sorely underrepresented in classic arcade gaming and are rarely seen in arcades or game rooms. In fact, should you see an owl near any type of arcade game or pinball table, it is advised to call an animal control professional so that the bird can be safely removed and released in the appropriate habitat.
Possessing sacred knowledge regarding candy lollipops, owls gain the ability to speak perfect English while wearing a square academic cap, and have no reported interest in alcoholic beverages. That's good news for you, because Ground Kontrol will be serving beer, cider, and well cocktails at happy hour prices until close! Enjoy a pint without fear of swift and silent retribution from the fearless predator with razor-sharp talons, and play your favorite games from the past four decades with absolutely no broadcast of any sports competition whatsoever!
Over 100 arcade games and pinball machines; beer, cider, and well cocktails at discount prices; and freedom from being consumed and turned into a pellet or having to watch hours of sports – it's Superb Owl Sunday at Ground Kontrol!
Please note that the blue side of Ground Kontrol will be closed for a private event from 5-7pm, and will reopen to the public at 7pm.
Superb Owl Sunday: Extended Sports-Free Happy Hour · Sunday, February 13 · Happy Hour 5pm-close · 21+ · FREE