Portland Pinbrawl X T-Shirt Pre-Orders Open!
Each year we produce a commemorative shirt for Pinbrawl, and we're really excited to unveil this year's design! Local artist Vo Minh McBurney (also responsible for last year's Pinbrawl IX design and our contest-winning "Arcade Meltdown" design) and colorist Lee Zeman teamed up once again to deliver an appropriately awesome retro-pinball-inspired design for our tenth Pinbrawl!
The t-shirts will be printed on high-quality stock by our friends at Mad Pakyderms, but they'll only be produced in limited quantities! If you want one, you'll need to secure yours by pre-ordering it in our online store by 12pm PDT on Tuesday 4/10! If you're attending Portland Pinbrawl X on Sunday 4/15 and want to pick up your shirt at the tournament, click the "pickup this item" link on the store checkout page!
Portland Pinbrawl X t-shirts will be available at Ground Kontrol during the tournament. We'll also ship mail orders beginning that day!
Whether you're the pinball hero we need or you just want to look the part, you need this limited-edition shirt. Order now!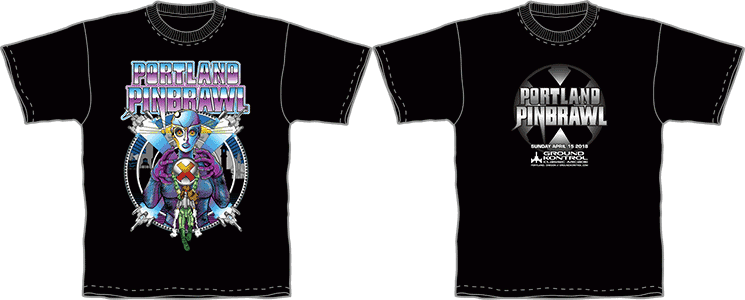 PREVIEW ONLY – Final art subject to change
NOTE: All t-shirt pre-orders must be received by 12pm PDT on Tuesday 4/10 in order to be produced on schedule.