Second Chance For Portland Pinbrawl IX T-Shirts!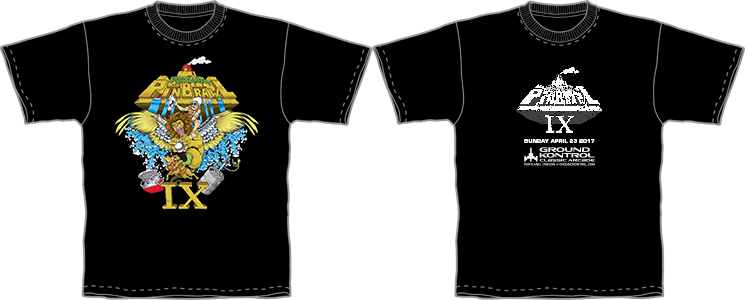 UPDATE: ORDERS NOW CLOSED! 
This year's Pinbrawl was the biggest yet, and the shirt design that we made to commemorate the event turned out to be a fan favorite! After receiving several requests to print another batch of Pinbrawl IX shirts, we've decided that it's time to give you another chance to claim one of these limited shirts for yourself. Local artist Vo Minh McBurney (also responsible for last year's Pinbrawl VIII design and our contest-winning "Arcade Meltdown" design) and colorist Lee Zeman really stepped it up with this year's design, featuring Willy from White Water riding Paragon's chimera off of a waterfall by a floating volcano – truly mystical!
The t-shirts will be printed on high-quality stock by our friends at Mad Pakyderms, but they'll only be produced in limited quantities! If you want one, you'll need to secure yours by ordering it using the form below by 10pm PST on Tuesday 8/22!
Whether you're the pinball hero we need or you just want to look the part, you need this limited-edition shirt. Order now!
NOTE: All t-shirt orders must be received by 10pm PST on Tuesday 8/22 in order to be produced on schedule.