Killer Queen Battle Royale
April 16, 2018 @ 6:00 pm

-

10:00 pm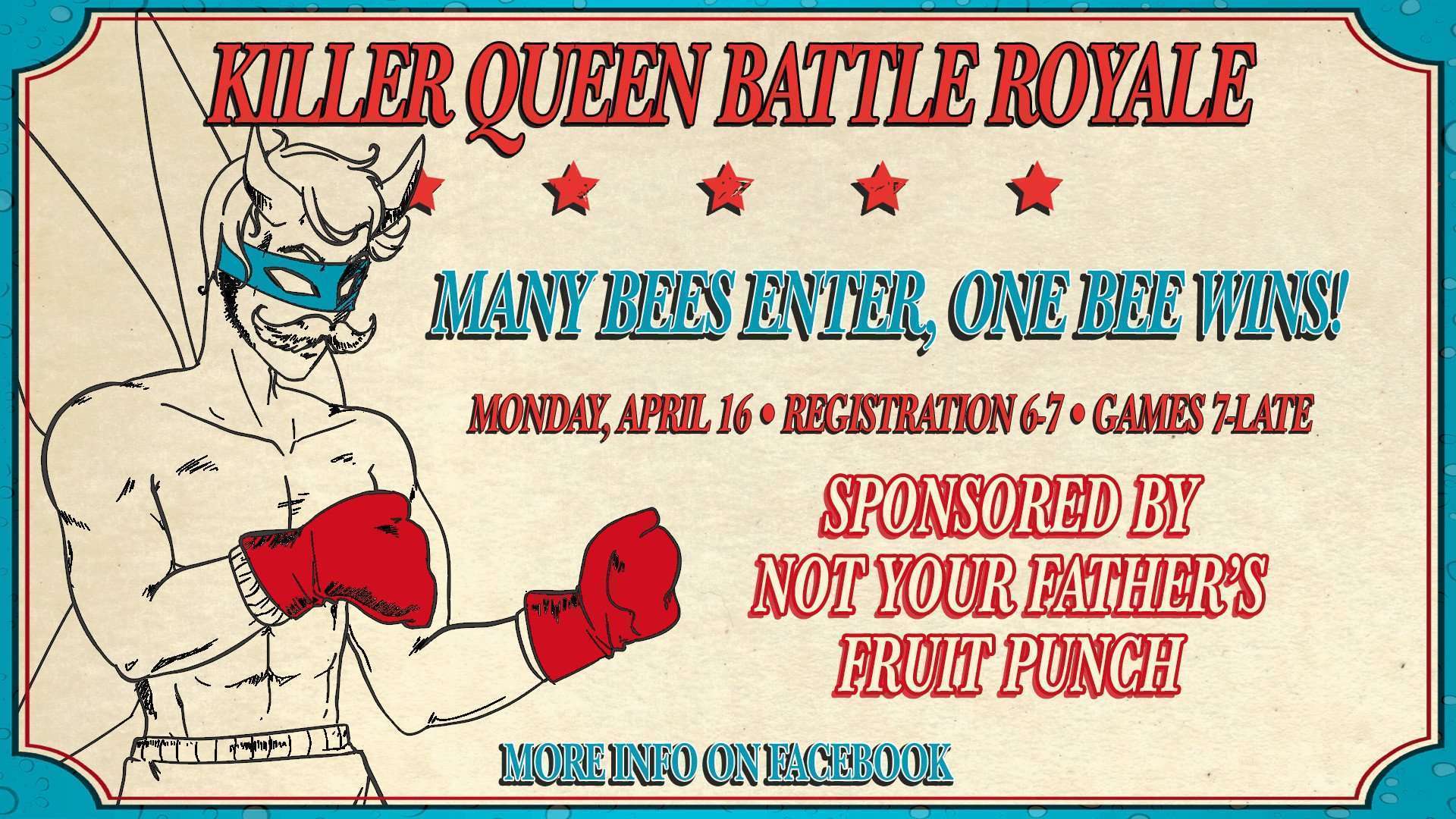 Ground Kontrol's monthly Killer Queen tournament is taking a very unique twist in April, as Small Town Brewery brings us Not Your Father's Fruit Punch and a winner-take-all Battle Royale format.
Inspired by the creative bees in the Minneapolis scene (Nathan Palmer and J Remington Sisk specifically), the "BUBG" tournament pits continually scrambled teams against each other to knock out players until one remains as the champion. Please make sure to get on the sign-up sheet before 7pm to get your name in the hat. The rules are as follows:
1) BUBG is not fair. Your team will be completely random in every match. Your team may even have less players than your opponents' team. Only one person will win this event, and it probably will not be you. BUBG is not fair.
2) As noted, every team will be drawn and assembled randomly before each round. If your team has fewer than 5 players on it, you are allowed to use bots — or not use your bots or switch places mid-game or elbow snail or whatever — at your discretion.
3) In each round, every team will play one other team in a best-of-three matchup. A representative from each squad will coin flip or rock/paper/scissors, with the winner choosing either cabinet side or first map and the other team picking second map. No maps may be repeated in the best-of-three matchup.
4) Every participant has two "health." If you are on a team that loses a best-of-three matchup, you lose one health. Once you have zero health, you are out of the tournament and your name will not be put back in the hat when teams are assembled for the next round.
5) There is a special "headshot" rule. If any team pulls off a family portrait victory at any time in the tournament, regardless of score in that matchup, every player on the opposing squad immediately loses two health and is eliminated from the tournament. Brutal. See rule No. 1.
6) The last remaining player wins the entire tournament.
Special thanks to Small Town Brewery for providing us with their new Not Your Father's Fruit Punch and a pile of themed prizes TBA.
For more information about our scene and previous tournaments, check out the Portland KQ community site: http://killerqueenpdx.buzz/
Killer Queen Battle Royale · Monday April 16 · Signups runs 6-7pm, first matchup shortly after 7pm · FREE · 21+
Related Events