Portland Pinbrawl X
April 15, 2018 @ 10:00 am

-

11:00 pm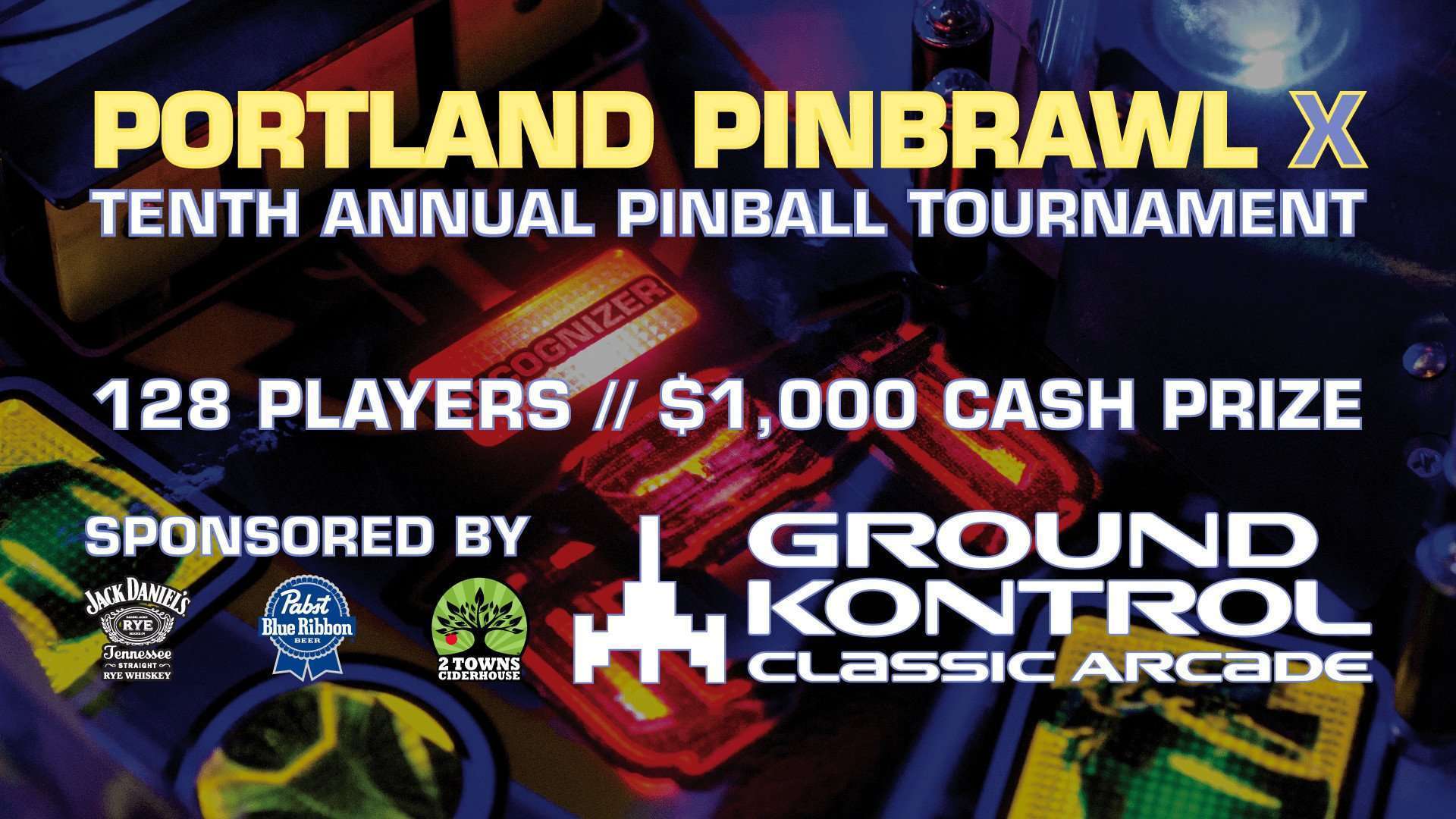 Portland Pinbrawl X
Ground Kontrol's TENTH Annual
Pinball Tournament!
On Sunday, April 15th 2018, 128 of the best pinball players from Portland and beyond will once again gather at Ground Kontrol Classic Arcade for Portland's biggest pinball tournament!
Portland Pinbrawl X takes place Sunday, April 15th. On-site registration (if any slots are available) begins at 10:00am. Tournament begins at 11:00am and ends "when it's over!"
Online registration is scheduled to open Saturday March 17th, 2018 on the following Eventbrite page: eventbrite.com/e/portland-pinbrawl-x-registration-43867482822. To get updates, please sign up for our email newsletter below!
STAY UPDATED
Join our email newsletter below to be updated on registration, t-shirt ordering and more!
TOURNAMENT LOCATION
Ground Kontrol Classic Arcade
511 NW Couch St. Portland, OR 97209
(503) 796-9364
For directions, click here.
ABOUT GROUND KONTROL
Ground Kontrol Classic Arcade is the premier arcade in the Northwest, featuring the best-maintained lineup of pinball games and classic video arcade games spanning decades in a retro-futuristic game room and lounge.
PRIZES
Cash prizes will be awarded to top finishers, with a $1,000 grand prize on the line!
Additional prizes from sponsors will be added as they are confirmed.
HOW TO REGISTER
Players can pre-register online, or register on-site the day of the tournament. Online registration has filled up quicker and quicker every year, so we highly recommend being prepared right at noon on Saturday if you'd like to secure your spot in the tournament.
ENTRY FEES & ON-SITE REGISTRATION
There is a $25 entry fee per participant. Registration is capped at 128 players. One entry per person is allowed, and no re-entries are allowed after elimination. On-site registration will begin at 10:00am Sunday, April 15th and will close at 10:45am or once we reach the maximum number of registrants. Cash is the only accepted form of payment for on-site registration. An ATM will be available on-site, but we recommend you come prepared with cash. 
ONLINE REGISTRATION PERIOD
Online registration guarantees you a spot in the tournament bracket without the hassle of waiting in line. Online registrations will be accepted from 12:00pm PDT Saturday March 17th until 12:00pm PDT Saturday, April 14th 2018 or until we reach the maximum number of registrants. Up to two players can be registered per transaction. Multiple entries for one player will be voided, so please double check player names before finalizing the transaction if you're also registering a friend.
T-SHIRT PRE-ORDER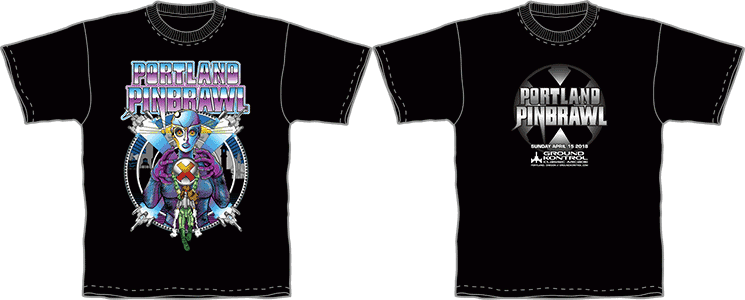 PREVIEW ONLY – Final art subject to change
Each year we produce a commemorative shirt for Pinbrawl, and we're really excited to unveil this year's design! Local artist Vo Minh McBurney (also responsible for last year's Pinbrawl IX design and our contest-winning "Arcade Meltdown" design) and colorist Lee Zeman teamed up once again to deliver an appropriately awesome retro-pinball-inspired design for our tenth Pinbrawl!
The t-shirts will be printed on high-quality stock by our friends at Mad Pakyderms, but they'll only be produced in limited quantities! If you want one, you'll need to secure yours by pre-ordering it in our online store by 12pm PST on Tuesday 4/10!
Portland Pinbrawl X t-shirts will be available at Ground Kontrol during the tournament. We'll also ship mail orders beginning that day!
Whether you're the pinball hero we need or you just want to look the part, you need this limited-edition shirt. Order now!
NOTE: All t-shirt pre-orders must be received by 12pm PST on Tuesday 4/10 in order to be produced on schedule.
VENUE RULES
AGE RESTRICTION
As a reminder, all players and spectators must be 21+ years old with a valid ID.
Any player or spectator that does not have valid ID will not be permitted entry.
CAPACITY
The tournament will be limited to 128 participants, and spectator entry will be limited by Ground Kontrol's maximum capacity. Registered participants are guaranteed entry to Ground Kontrol, provided they are 21+ with valid ID. Spectators will not be permitted between the hours of 10:00am and 3:00pm. After 3:00pm, spectators are encouraged to come down and watch the final matches! Admission to the pinball areas will be limited to tournament participants, and play on the pinball machines will be limited to tournament games only.
TOURNAMENT RULES
The full list of tournament rules will be available online soon and will be available for viewing at the registration desk the day of the tournament.
FORMAT
The tournament will be a random bracket placement head to head best two of three double elimination tournament.
LIST OF GAMES
The list of games will be posted closer to the tournament date.
SIDE TOURNAMENTS
We plan to feature at least one side tournament, to be announced!
HOTELS
Partner hotels and deals will be announced as soon as they're finalized!
From I-5 North: After entering Oregon…
Take exit 302A toward City Center
Turn right at N Broadway
Turn left at NW Broadway
Turn left at NW Couch St
From I-5 South: After entering Oregon…
Take exit 299B on the left for I-405 W toward US-26 W/City Center/Beaverton
Merge onto I-405 N
Take exit 2B for Everett St toward I-405 N/Seattle
Merge onto NW 14th Ave
Turn right at NW Everett St
Turn right at NW Broadway
Take the 2nd left onto NW Couch St
Directions provided by Google Maps. To route your own trip, click here.
PARKING
Street parking and paid parking lots (not operated by Ground Kontrol) are available. Street parking is metered from the hours of 1pm-7pm on Sundays. If you plan to drive to Ground Kontrol, we recommend you park in the paid lot next to Ground Kontrol or the paid lot on NW Couch Street between 4th and 5th Avenue. Rates vary, but typically range from $6-15 for all-day parking on Sundays.
GETTING AROUND IN PORTLAND
Ground Kontrol is located near several public transit lines, including bus and light rail. For schedule and route information, visit TriMet's website or call (503) 238-RIDE. If you need a cab, call Radio Cab at (503) 227-1212.
QUESTIONS?
All questions regarding Portland Pinbrawl can be sent to: pinbrawl@groundkontrol.com. Please allow 24-48 hours for a response.
AND FINALLY…
See you there! Let's make this great!
– Portland Pinbrawl Organizers, Ground Kontrol Owners & Staff