Killer Queen Competitive Clash
November 19, 2018 @ 6:00 pm

-

10:00 pm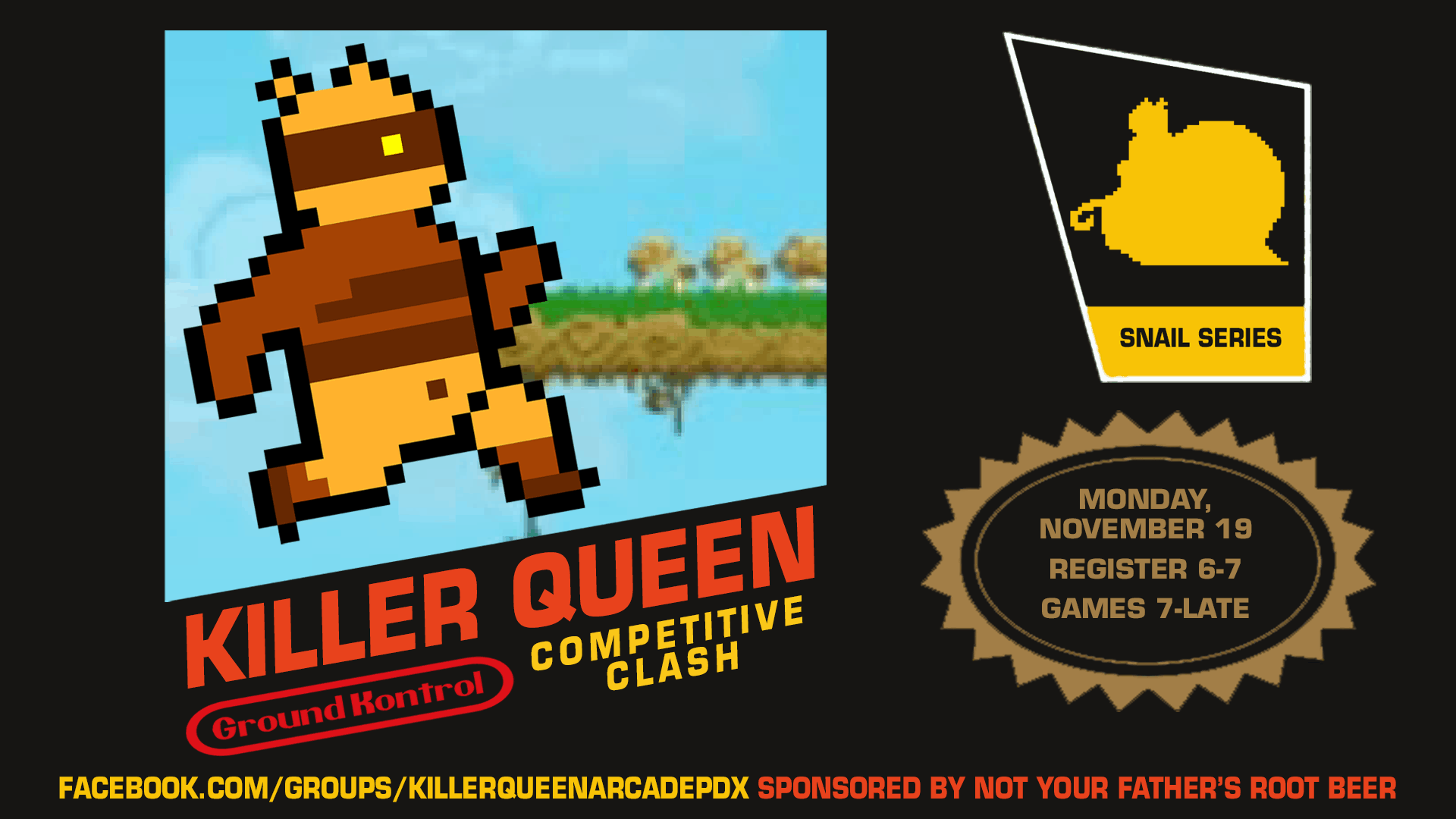 Ground Kontrol's biggest Killer Queen tournament is coming up! The Competitive Clash, sponsored by Not Your Father's Root Beer, is running on the third Monday of every other month.
Sign up to compete on the world's only 10-player arcade game, Killer Queen, in our party room! This game's hard to find and harder to miss — two giant cabinets support 5 players each (with drink holders for your beer, of course). Teams compete as worker bees, warriors and queens battling it out to be the first to collect the most pollen, decimate the opposing queen three times, or ride the snail to their base. It's one of the best multiplayer experiences we've ever seen in arcades! Sign up for the tournament and you could win up to $100 in Ground Kontrol credit and champion pins! Tournament sign-ups are an hour earlier now, as they take place from 6-7pm, and the first game kicks off shortly after 7!
The tournament will feature best-of-five matches in a Round Robin or Double Elimination format. All skill levels welcome! Broadcast live online with play-by-play commentary!
It's the Killer Queen Competitive Clash – one of Ground Kontrol's biggest tournaments, featuring our most dedicated players!
PRIZES:
* 1st Place: $100 in Ground Kontrol credit
* 2nd Place: $50 in Ground Kontrol credit
* 3rd place: $20 in Ground Kontrol credit
Thanks again to our sponsor Not Your Father's Root Beer!
For more information about our scene and previous tournaments, check out the Portland KQ community site: http://killerqueenpdx.buzz/
Killer Queen Competitive Clash · Monday November 19 · Signups start at 6pm, first games shortly after 7pm · FREE · 21+