Portland Pinbrawl XII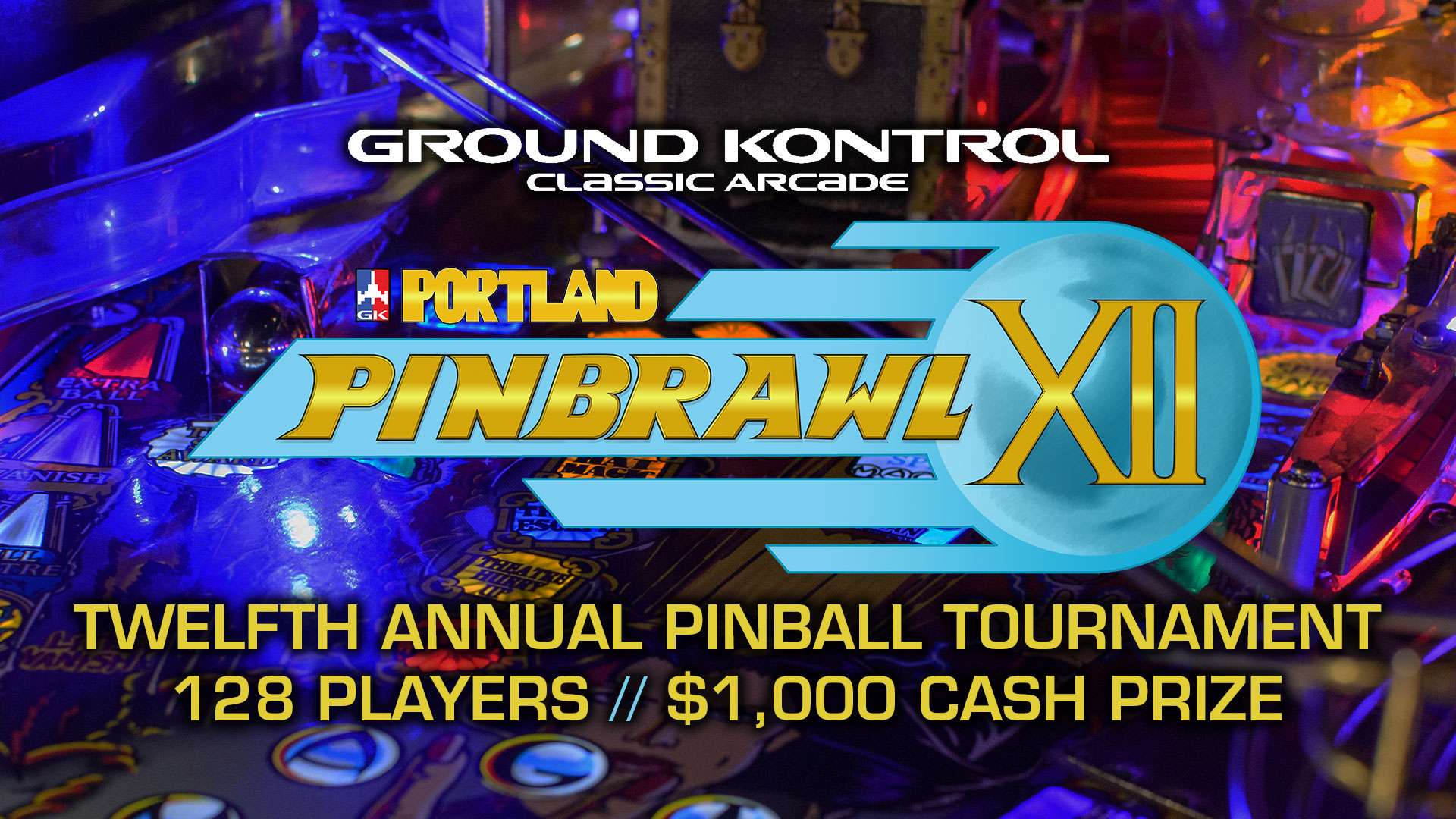 Portland Pinbrawl XII
Ground Kontrol's TWELFTH Annual
Pinball Tournament!
***SOLD OUT, THANK YOU!***
On Saturday, April 29th 2023, 128 of the best pinball players from Portland and beyond will once again gather at Ground Kontrol Classic Arcade for Portland's biggest pinball tournament! For the first time, Portland Pinbrawl will take place over two days, with qualifying matches 11am-7pm on Saturday, April 29th and finals for the top 32 qualifying players at noon on Sunday, April 30th.
GROUND KONTROL WILL BE CLOSED TO THE PUBLIC UNTIL 7PM ON SATURDAY 4/29
ACCESS WILL BE LIMITED TO TOURNAMENT PLAYERS AND APPROVED GUESTS
THE BLUE SIDE OF GROUND KONTROL WILL BE CLOSED TO THE PUBLIC UNTIL 7PM ON SUNDAY 4/30
ACCESS TO THE BLUE SIDE WILL BE LIMITED TO TOURNAMENT PLAYERS AND APPROVED GUESTS
Portland Pinbrawl XII will begin Saturday, April 29th. On-site registration (if any slots are available) begins at 10:00am. Qualifiers begin at 11:00am and end by 7pm. Finals begin on Sunday, April 30th at noon (check-in 11:00am) and continue until completed.
Online registration is scheduled to open Saturday March 25th, 2023 on the following Eventbrite page:
***SOLD OUT, THANK YOU!***
https://www.eventbrite.com/e/portland-pinbrawl-xii-tickets-593435179597
TOURNAMENT LOCATION
Ground Kontrol Classic Arcade
115 NW 5th Ave. Portland, OR 97209
(503) 796-9364
For directions, click here.
ABOUT GROUND KONTROL
Ground Kontrol Classic Arcade is the premier arcade in the Northwest, featuring the best-maintained lineup of pinball games and classic video arcade games spanning decades in two retro-futuristic game rooms and lounges.
PRIZES
Cash prizes will be awarded to top finishers, with a $1,000 grand prize on the line!
Additional prizes from sponsors will be added as they are confirmed.
HOW TO REGISTER
***SOLD OUT, THANK YOU!***
Players can pre-register online, or register on-site the day of the tournament. Online registration has filled up quicker and quicker every year, so we highly recommend being prepared right at noon on Saturday 3/25 if you'd like to secure your spot in the tournament.
ENTRY FEES & ON-SITE REGISTRATION
There is a $40 entry fee per participant. Registration is capped at 128 players. One entry per person is allowed, and no re-entries are allowed after elimination. On-site registration will begin at 10:00am Saturday, April 29th and will close at 10:45am or once we reach the maximum number of registrants. Cash is the only accepted form of payment for on-site registration. An ATM will be available on-site, but we recommend you come prepared with cash.
ONLINE REGISTRATION PERIOD
Online registration guarantees you a spot in the tournament bracket without the hassle of waiting in line. Online registrations will be accepted from 12:00pm PDT Saturday March 25th until 12:00pm PDT Friday, April 28th 2023 or until we reach the maximum number of registrants. Up to two players can be registered per transaction. Multiple entries for one player will be voided, so please double check player names before finalizing the transaction if you're also registering a friend.
T-SHIRT PRE-ORDER
Portland Pinbrawl XII t-shirts and hoodies are available for preorder until 1pm on Thursday 4/27. There may be extra shirts and hoodies available for purchase during the tournament.
VENUE RULES
AGE RESTRICTION
As a reminder, all players and spectators must be 21+ years old with a valid ID.
Any player or spectator that does not have valid ID will not be permitted entry.
CAPACITY
The tournament will be limited to 128 participants, and spectator entry will be limited by Ground Kontrol's maximum capacity. Registered participants are guaranteed entry to Ground Kontrol, provided they are 21+ with valid ID.  Admission to the pinball areas will be limited to tournament participants, and play on the pinball machines will be limited to tournament games only.
TOURNAMENT RULES
Qualifying (Saturday 4/29)
Qualifying begins at 11 AM and will run until approximately 7 PM. Qualifying rounds consist of four-player match play groups, with 7/5/3/1 scoring for placement for four-player games. Matchplay.events will be used for the tournament administration. Players will play in the order that is specified by Matchplay. Player groups will be drawn using balanced pairing. Results of games can be reported to the tournament director or through the Matchplay platform. The number of qualifying rounds will be determined by the amount of rounds that can be completed before a cutoff time of 6 PM. New rounds will continue to be called up until the cutoff time, at which the final round of qualifying will be played. Matchplay tiebreakers will be used in cases where it is possible to break ties. In the case that matchplay tiebreakers still result in a tie in a situation where it affects qualifying for the finals (i.e. a three-way tie for the final qualifying spot), a playoff game consisting of one three-ball game will be used to break the tie. The game and the player order will be randomly selected by the tournament director.
Finals (Sunday 4/30)
The top 32 finalists from qualifying will compete in the finals that will be held on Sunday, April 30th. The finals will begin at noon and will continue until completed. The finals will follow a double-elimination best-of-three game format. The players will be seeded in respect to their order in qualifying. Two players will be drawn on a specific game and will play a best-of-three series to determine the winner. Players will self-determine who will play first and second in the first game, however the player order will alternate from game to game – the player that goes first in the first game will go second in the second and first again in the third game if necessary.
General rules
Practicing will not be allowed before the start of the qualifying or finals rounds.
Players must be at their specified games within 5 minutes of a round being called, otherwise the player will be disqualified for that round.
All extra balls will be turned off or set to award points. If a player is awarded an extra ball, they will be required to plunge it with no flips.
All rules pertaining to machine malfunctions and player behavior not otherwise specified will default to the IFPA rules.
LIST OF GAMES
The list of games will be posted closer to the tournament date.
DIRECTIONS TO GROUND KONTROL
From I-5 North: After entering Oregon…
Take exit 302A toward City Center
Turn right at N Broadway
Turn left at NW Broadway
Turn left at NW Couch St
From I-5 South: After entering Oregon…
Take exit 299B on the left for I-405 W toward US-26 W/City Center/Beaverton
Merge onto I-405 N
Take exit 2B for Everett St toward I-405 N/Seattle
Merge onto NW 14th Ave
Turn right at NW Everett St
Turn right at NW Broadway
Take the 2nd left onto NW Couch St
Directions provided by Google Maps. To route your own trip, click here.
PARKING
Street parking and paid parking lots (not operated by Ground Kontrol) are available. Street parking is metered from the hours of 7am-7pm on Saturdays and 1pm-7pm on Sundays. If you plan to drive to Ground Kontrol, we recommend you park in the paid lot next to Ground Kontrol or the paid lot on NW Couch Street between 4th and 5th Avenue. Rates vary, but typically range from $6-15 for all-day parking on Sundays.
GETTING AROUND IN PORTLAND
Ground Kontrol is located near several public transit lines, including bus and light rail. For schedule and route information, visit TriMet's website or call (503) 238-RIDE.
QUESTIONS?
All questions regarding Portland Pinbrawl can be sent to: pinbrawl@groundkontrol.com. Please allow 24-48 hours for a response.
AND FINALLY…
See you there! Let's make this great!
– Portland Pinbrawl Organizers, Ground Kontrol Owners & Staff
Related Events